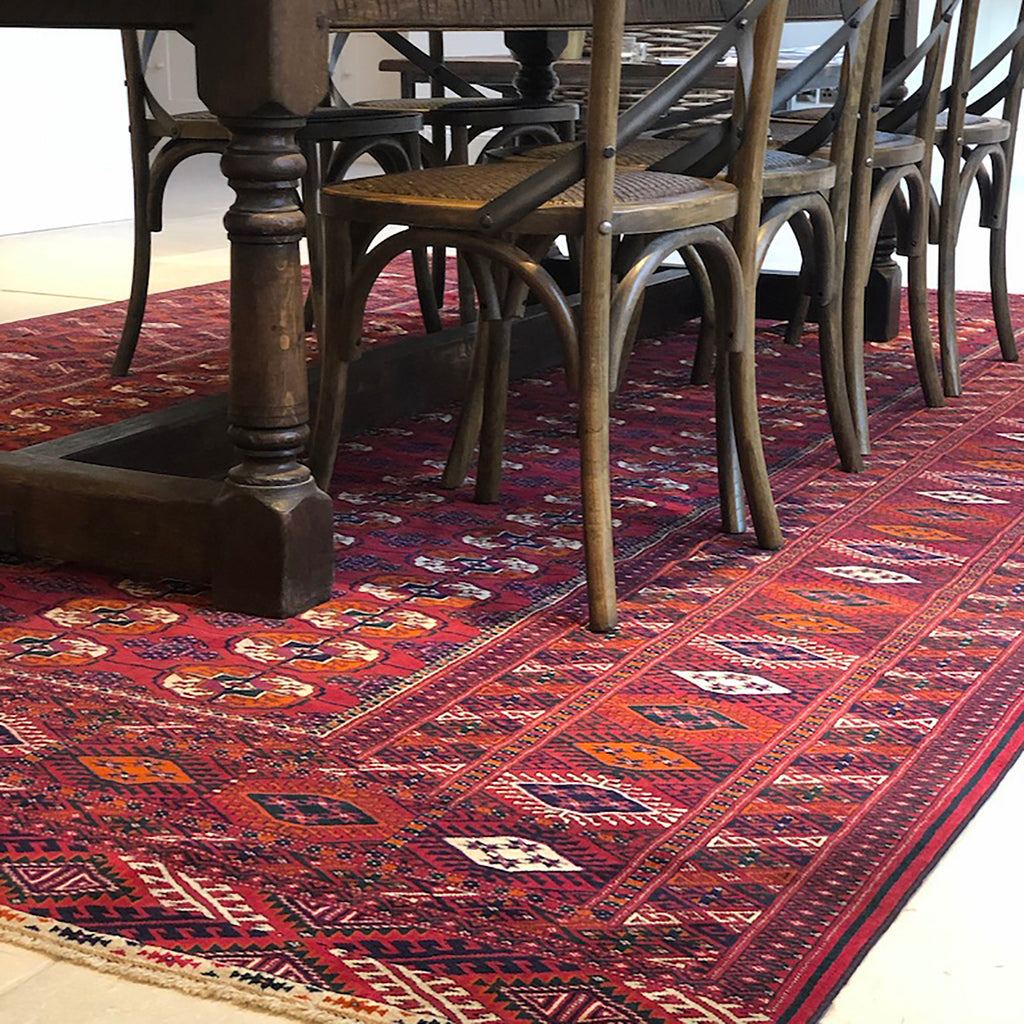 LARGE ORIENTAL RUGS
What makes a large Oriental Rug?
An oriental rug is a heavy textile made for a wide variety of utilitarian and symbolic purposes and produced in "Oriental countries" for home use, local sale, and export. Oriental carpets can be pile woven or flat woven without pile, using various materials such as silk, wool, and cotton.
A Large Oriental Rug would be one that is in excess of 360cm x 260cm.
Oriental rugs in these large sizes have been in production for hundreds of years and have adorned some of the worlds best interiors. 
An oriental rug is woven by hand on a loom, with warps, wefts, and pile made mainly of natural fibers like wool, cotton, and silk. In representative carpets, metal threads made of gold or silver are woven in. The pile consists of hand-spun or machine-spun strings of yarn, which are knotted into the warp and weft foundation. Usually the pile threads are dyed with various natural or synthetic dyes. Once the weaving has finished, the rug is further processed by fastening its borders, clipping the pile to obtain an even surface, and washing, which may use added chemical solutions to modify the colours.
Large antique Persian Kirman carpet
Large Contemporary Rug
Large Berber Rug 
-
THE LARGEST ORIENTAL RUG EVER
The
largest
hand-woven
carpet
measures 5,630 m² (60,600.81 ft²) and was manufactured by the Iran
Carpet
Company (Iran). It was created for the Abu Dhabi mosque and was measured in Abu Dhabi, UAE, in 2007. The
carpet
was created in 9 parts and assembled in the mosque.
We have travelled for over twenty years sourcing the best examples of Oriental rugs, we only buy rugs of high quality and character. Our selections of Oriental Rugs are carefully selected from established and experienced weavers, who use vegetable-dyed hand-spun wool or the finest materials available. 
-
Shop online, in-store and at home.
EMMA MELLOR HANDMADE RUGS